Judging by my steel I got something to do here...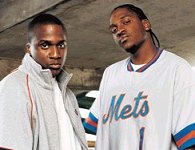 Clipse feat. Rosco P. Coldchain - At Your Door (radio rip)
Can we please just release the fucking album?
All these mixtapes and "leaks" and fake news and shit about Clipse upsets me way more than it should.

Pink feat. Redman - Get This Party Started (Rockwilder Remix)
Outkast feat. Rage Against The Machine - B.O.B. (remix)
So it goes.